Gangster Bilal Hamze laid to rest following CBD death
Updated
first published at
Masked underworld figures and armed police watched on as Bilal Hamze was laid to rest on Wednesday, almost a week after a brazen drive-by shooting in the Sydney CBD that police fear will reignite a cycle of violent retribution between rival crime families.
Funeral proceedings at Lakemba Mosque and Rookwood Cemetery were closely monitored by police amid heightened concerns about gangland conflict and the safety of senior members of the notorious Hamzy family who were present at the ceremony.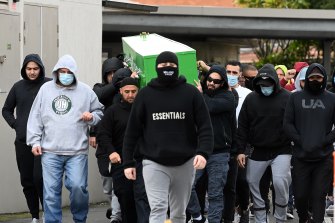 More than 100 mourners – many wearing hooded jumpers and face masks – gathered at the service for Mr Hamze, who was killed in a shooting on Bridge St after a dinner date at an upmarket Japanese restaurant last week.
The shooting was described by police as a major escalation in underworld tensions and detectives are investigating if it was the latest episode in a long-running dispute between the rival Hamzy and Alameddine families.
Mr Hamze died from his wounds after being rushed to St Vincent's hospital late on Thursday night.
Six days later, funeral proceedings started in the morning on Wednesday with the ceremonial washing of the body, attended by close family members, before the coffin was carried inside the mosque for Salat al-Janazah, the Islamic funeral prayer.
High-profile Hamzy family members, including Bilal Hamze's mother Maha, were in attendance. One branch of the extended family uses the Hamzy spelling while another uses Hamze.
Ibrahem Hamze, Bilal's brother, and Ghassan Amoun, his cousin, were able to mourn with relatives after successfully applying to the Supreme Court to suspend serious crime prevention orders that heavily restrict their activities and who they can speak with.
Following the mosque gathering, Mr Hamze's body was taken to Rookwood for a burial ceremony. Attendees paid their respects to Mr Hamze's kin as police patrolled.
Roads inside the cemetery leading to the burial site were blocked off by concrete barriers and signs in an effort to control access.
Police were concerned about the high-profile gathering in the context of the family's dispute with the Alameddines, who were also linked by investigators to the October shooting death of Mr Hamze's cousin Mejid Hamzy.
Bilal Hamze reportedly had a price on his head and detectives have warned Ibrahem Hamze and Mr Amoun that they face the same threat as their deceased relative.
The two men have been subject to sweeping and rarely-used crime prevention orders since December, when the court imposed the conditions to curtail "escalating retaliatory violence" between the families' networks.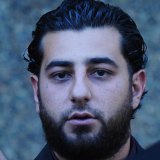 The last-minute applications to suspend the non-association conditions in the orders, heard before the court on Tuesday, were granted despite police concerns.
Barrister Christine Melis, representing NSW Police, warned of a "critical juncture" in gang tensions and argued the funeral would be used as an opportunity to share information and plot retaliatory violence against those responsible for shooting Bilal Hamze.
"Now more than ever, the order needs to be strictly complied with and enforced," she said.
She said the event might be used by the men to "organise, discuss or conspire" and there was an imminent and substantial risk of further violence.
Ertunc Ozen, Mr Amoun's barrister, told the court "the suggestion [Mr Amoun] would take that opportunity, without any material basis, to conspire or assist with the commission of a crime is, with the greatest respect, abhorrent".
Police also submitted a report from the Australian Criminal Intelligence Commission, received on Tuesday, which warned "there is a level of threat against Mr Amoun and that his movements will be monitored [by enemies] at the funeral".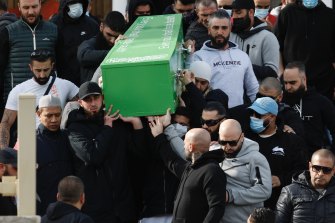 Granting Mr Amoun's application, Justice David Davies said the funeral could be the safest location for the man, given the heavy police presence, even if his movements were monitored and he was the "next person to be targeted".
Justice Davies granted Ibrahem Hamze his temporary waiver in a separate hearing late on Tuesday.
One member of the family not present was Bilal Hamze's cousin Bassam Hamzy, considered one of Australia's most dangerous prisoners, who founded the Brothers for Life gang and still wields influence over the Hamzy network from his cell at Goulburn Supermax.
Hamzy has been in custody since 1999 for a string of criminal convictions including murder, conspiracy to murder and drug supply. He will not be eligible for parole for at least another 15 years and is facing charges for alleged drug supply offences and perverting the course of justice.
The Morning Edition newsletter is our guide to the day's most important and interesting stories, analysis and insights. Sign up here.
Fergus Hunter is a crime reporter for The Sydney Morning Herald.